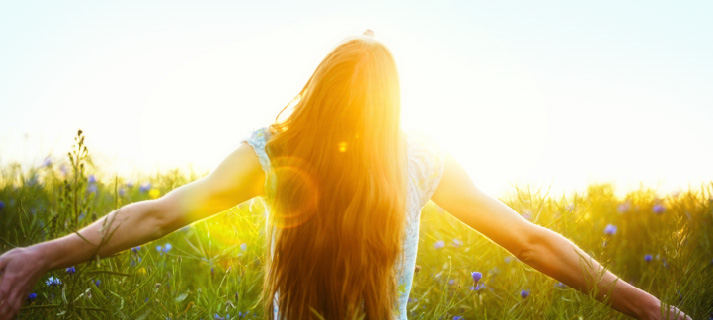 (Part 1 of a 3-part series)
Spring is here, and with it comes an opportunity to emerge from underneath the covers and peel back the layers. Longer days and warmer weather shake us out of winter's comfort-seeking behaviors and inspire us to give our lifestyles a much-needed spring cleaning. Unlike the fleeting promises and resolutions of New Year's Day, springtime is a long, gradual awakening that gives us time to think deeply and carefully about how to renew our own lives.
Each month this spring – March, April, and May – I'll be giving tips on how to slowly eliminate old habits and replace them with health-promoting behaviors. These changes are easy and enjoyable to implement and will make a big difference in how you feel, both mentally and physically. They do not involve counting calories or spending hours at the gym, but simply thinking differently about the things you already do every day. I invite you to join me on this journey to health, healing, and vitality.
These are the 5 steps to better habits I'll be taking in March. Try them along with me!
Step 1: Let in the Light
Don't be scared of sun exposure. Though we've always been warned to avoid it, moderate sunlight actually offers a bundle of health benefits.
Few foods contain vitamin D, but sunlight positively bathes us in it. Vitamin D is an essential nutrient for the absorption of calcium and the formation of strong, healthy bones, which is especially important as we get older. Sunlight also boosts serotonin production, making us more likely to enjoy the proverbial "sunny" disposition. Low vitamin D levels affect the immune system, decreasing our ability to manage infections, and have even been linked to increased mortality from heart disease. Exercising outdoors for 30 minutes a day brings you these perks of sun exposure as well as the health benefits of daily exercise.
Step 2: Water the "Staff of Life"
Sixty percent of the human body is water, so it's no wonder that dehydration leads to fatigue, decreased metabolic potential, and an increased risk of injury. To get your all-important daily dose of water with an addictive dash of flavor, try experimenting with the art of herbal teas.
Start your day with some homemade ginger lemon honey tea. Grate 1 tablespoon of fresh ginger into a mug. Fill the mug with boiling water and let the ginger infuse for 5 minutes. Add a tablespoon of honey and the juice of 1/2 lemon. Strain out the ginger – or just let it settle at the bottom of the mug – and enjoy this sweet and tangy confection.
Alternately, prepare a 32 oz pitcher of tea in the morning to drink throughout the day. Here are some of my favorite combinations:
Start with 2–3 bags of lemon ginger tea. Add slices of peeled fresh ginger and lemon. Garnish with a few mint sprigs.Start with 2–3 bags of orange spice tea. Add slices of peeled blood oranges or navel oranges.

Start with 2–3 bags of berry zinger tea. Add 1 cup of fresh berries.

Start with 2–3 bags of apple cinnamon tea. Slice an apple thinly and add it in with 2 sticks of cinnamon.
Step 3: Scrub Your Digestive Tract
Increase your intake of raw and lightly cooked vegetables to boost your fiber intake and improve your digestive health. Compose a salad of fresh baby greens, vegetables, and a protein of your choice. Dress with a mix of healthy oils,lemon juice, and apple cider or rice vinegar, and flavor with fresh herbs, Himalayan salt, and spices.
Here are 3 favorites I'm planning to enjoy often in the upcoming months:
Salmon Nicoise. Mix baby spinach, arugula, and watercress in a bowl. Add grape tomatoes, sliced fresh or roasted peppers, lightly steamed green beans, 5–6 black olives, 1/4 cup cannellini beans, 2 quartered artichoke hearts, and 3 oz of grilled salmon cut into chunks. Dress to taste.Greek Salad.Choose a mix of greens with fresh herbs. Add chunks of peeled cucumber, chopped mixed peppers, slices of grilled zucchini and summer squash, 1/4 cup garbanzo beans, 3 oz sliced grilled chicken, 5–6 kalamata olives, and 2 tbsp crumbled feta cheese. Dress with a mix of olive oil, lemon juice, Himalayan salt, and fresh herbs.

Chef Salad.Start with a base of chopped romaine lettuce. Add sliced plum tomatoes, peeled and sliced cucumber, sliced celery, chopped mixed peppers, 1 sliced boiled egg, 2 oz chopped turkey breast, 2 tbsp red beans, and 2 tbps shredded cheese. Dress with olive oil, organic rice vinegar, and Himalayan salt.
Step 4: Crowd Out the Carbs
When preparing your evening meal, cut down on grains and focus on protein and vegetables instead. Try to get at least 3 prepared vegetables on your plate: Leafy greens like spinach, bok choy, kale, chard, or escarole; Cruciferous vegetables like cabbage, broccoli, Brussels sprouts, cauliflower, or broccoli rabe; and a vegetable of your choice. By filling up on vegetables instead of carbs, you'll get more nutrition out of your meal and feel more energetic afterward.
By filling up on vegetables instead of carbs, you'll get more nutrition out of your meal and feel more energetic afterward.
Step 5: Treat Yourself Well
Reward your efforts with two squares of dark chocolate with at least 70% cacao. Super-dark chocolate is rich in phenolic compounds, potent antioxidants that help fight the body's aging processes. Pair it with a soothing cup of herbal tea, and enjoy!
(Original Post on Boomshop)